Flag of the Bahamas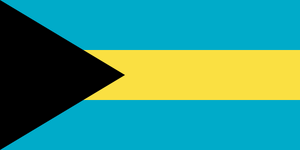 General
List of flags
Simplified list of national flags 
The
flag of the Bahamas
has an approximately 1:2 aspect ratio. The black equilateral triangle on the left represents the unity and determination of the people of the
Bahamas
.
[1]
The triangle is oriented toward three equal-width stripes symbolizing areas of natural resource; two aquamarine stripes at the top and bottom of the flag representing the sea and one gold stripe representing the land. The flag was adopted on July 10, 1973.
The civil ensign is a red ensign with a white cross throughout and the national flag in the upper-hoist corner; the naval ensign is a white ensign with the same canton.
Ad blocker interference detected!
Wikia is a free-to-use site that makes money from advertising. We have a modified experience for viewers using ad blockers

Wikia is not accessible if you've made further modifications. Remove the custom ad blocker rule(s) and the page will load as expected.