Flag of Yukon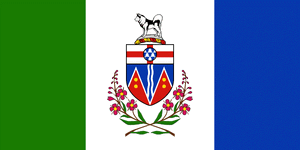 General
List of flags
Simplified list of national flags 
The flag of Yukon, Canada, is a green, white, and blue tricolor with the coat of arms of Yukon at the center above a wreath of fireweed, the territorial flower. An official flag for Yukon was created during the 1960s, a decade in which the national flag of Canada was chosen as well as several other provincial flags were created. The flag of Yukon was officially selected from a territory-wide design competition in 1967, with the winning design adopted on March 1, 1968.
Ad blocker interference detected!
Wikia is a free-to-use site that makes money from advertising. We have a modified experience for viewers using ad blockers

Wikia is not accessible if you've made further modifications. Remove the custom ad blocker rule(s) and the page will load as expected.