Flag of Yorkshire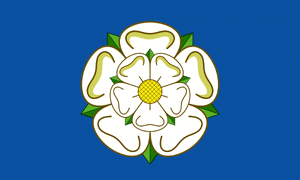 General
List of flags
Simplified list of national flags 
The blue represents the sea and sky. The white rose is used as a symbol of Yorkshire as a whole present day, although hundreds of years ago it was used as the symbol of the House of York who hailed from York, Yorkshire. The white rose is used as a patriotic symbol of Yorkshire, as opposed to the red rose of neighbouring Lancashire and the tudor rose of Tudor England (which is actually the white and red roses mixed together).
Ad blocker interference detected!
Wikia is a free-to-use site that makes money from advertising. We have a modified experience for viewers using ad blockers

Wikia is not accessible if you've made further modifications. Remove the custom ad blocker rule(s) and the page will load as expected.