Flag of Winnipeg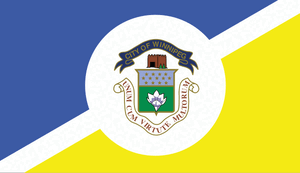 General
List of flags
Simplified list of national flags 
The flag of Winnipeg, Manitoba, Canada, was adopted on October 1, 1975. In the centre lies the city crest, with blue to the upper left, and yellow to the lower right. The blue represents Winnipeg's clear blue sky, and the gold a field of wheat, the city's original primary economic activity.
The blue and yellow design was adopted as the official colours for the city's centennial celebrations in 1974. Its proportion is 1:2
Ad blocker interference detected!
Wikia is a free-to-use site that makes money from advertising. We have a modified experience for viewers using ad blockers

Wikia is not accessible if you've made further modifications. Remove the custom ad blocker rule(s) and the page will load as expected.