Flag of Tierra del Fuego, Argentina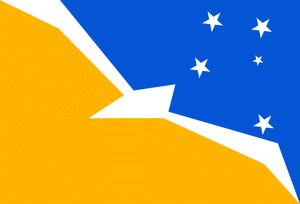 General
List of flags
Simplified list of national flags 
The flag of the 
Argentina
 province 
Tierra de Fuego 
(officially 
Tierra del Fuego, Antártida e Islas del Atlántico Sur
) has a white stylized flying albatross facing the upper fly, and its wingspan stretches from the canton corner of the flag to the lower fly corner of the flag. The area of the flag above the albatross is blue, and the area below it is orange. In the center of the blue area is a stylized version (using white five-pointed stars) of Crux.
Symbolism

Edit
Blue represents the ocean and the sky, the albatross is a symbol of Tierra del Fuego, and Cruz is a very famous guide constellation in the Southern Hemisphere.
Ad blocker interference detected!
Wikia is a free-to-use site that makes money from advertising. We have a modified experience for viewers using ad blockers

Wikia is not accessible if you've made further modifications. Remove the custom ad blocker rule(s) and the page will load as expected.