Flag of Tambovskaya Oblast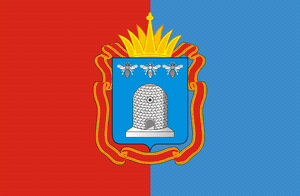 General
List of flags
Simplified list of national flags 
Symbolism

Edit
The red is the color of courage, firmness, and bravery of the citizens of the oblast, their generosity, yearning for unity and solidarity, succession of generations; it reflects the color of the historical banners of Rus, emblems of the Tambov regiments, and the flags of the Soviet time.
The blue stands for greatness, natural beauty, and purity of the land of Tambov, traditions, irreproachability, and wellbeing.
Ad blocker interference detected!
Wikia is a free-to-use site that makes money from advertising. We have a modified experience for viewers using ad blockers

Wikia is not accessible if you've made further modifications. Remove the custom ad blocker rule(s) and the page will load as expected.