Flag of Romania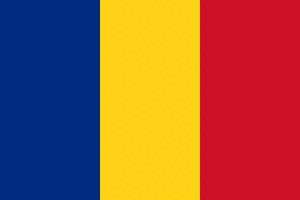 General
List of flags
Simplified list of national flags 
The national flag of Romania (Romanian: Drapelul României) is a tricolour with vertical stripes: beginning from the flagpole, blue, yellow and red. It has a width-length ratio of 2:3.
The Constitution of Romania[1] provides that "The flag of Romania is tricolour; the colors are arranged vertically in the following order from the flagpole: blue, yellow, red". The proportions, shades of color as well as the flag protocol were established by law in 1994[2] and extended in 2001.[3]
The flag is coincidentally very similar to the civil flag of Andorra and the state flag of Chad. The similarity with Chad's flag, which differs only in having a darker shade of blue (indigo rather than cobalt), has caused international discussion. In 2004, Chad asked the United Nations to examine the issue, but then-president of Romania Ion Iliescu announced no change would occur to the flag.[4] The flag of Moldova is related to the Romanian tricolour, except it has a 1:2 ratio, a lighter shade of blue, a slightly different tint of yellow, and the Moldavian coat of arms in the middle. The flag of Belgium uses black rather than blue.
Ad blocker interference detected!
Wikia is a free-to-use site that makes money from advertising. We have a modified experience for viewers using ad blockers

Wikia is not accessible if you've made further modifications. Remove the custom ad blocker rule(s) and the page will load as expected.