Flag of New Zealand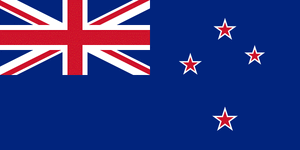 General
List of flags
Simplified list of national flags 
The
flag of New Zealand
is a
defaced
Blue Ensign
with the
Union Flag
in the canton, and four red stars with white borders to the right. The stars represent the constellation of
Crux
, the Southern Cross.
New Zealand's first flag, the flag of the United Tribes of New Zealand, was adopted before New Zealand became a British colony. Chosen by an assembly of Māori chiefs in 1834, the flag was of a St George's Cross with another cross in the canton containing four stars on a blue field. After the formation of the colony in 1841, British ensigns began to be used. The current flag was designed and adopted for restricted use in 1869 and became the national flag in 1902. It is the British Blue Ensign, incorporating a stylized representation of the Southern Cross showing the four brightest stars in the constellation. Each star varies slightly in size. The Union Flag in the canton recalls New Zealand's colonial ties to Britain.
The flag proportion is 1:2 and the colors are red (Pantone 186C), blue (Pantone 280C) and white. Proportion and colors are identical to the Union Flag.
Ad blocker interference detected!
Wikia is a free-to-use site that makes money from advertising. We have a modified experience for viewers using ad blockers

Wikia is not accessible if you've made further modifications. Remove the custom ad blocker rule(s) and the page will load as expected.