Flag of New Hampshire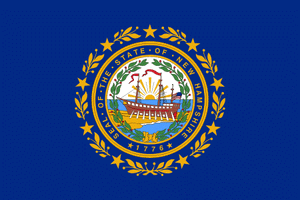 General
List of flags
Simplified list of national flags 
The
flag of the state of New Hampshire
consists of the
state seal
centered on a blue background. It was adopted in 1909, and changed once in 1931, when the state seal was modified. Prior to 1909, the state was represented by various regimental flags.
The seal depicts the frigate USS Raleigh and is surrounded by a laurel wreath with nine stars. The Raleigh is one of the first 13 warships sponsored by the Continental Congress for a new American navy, built in 1776, at Portsmouth. The seal is surrounded by a laurel wreath. The wreath is an ancient symbol of fame, honor, and victory. The nine stars within the wreath show that New Hampshire was the ninth state to join the Union. The water stands for the harbor of Portsmouth, and in the yellow-colored spit of land is granite, a strong igneous rock, representing both New Hampshire's rugged landscape and the sturdy character of her people.
The design was ranked as one of the ten worst flags (specifically 63rd out of 72) within the United States (including all US States and US Territories), and Canadian provinces in a 2001 survey of members of the North American Vexillological Association.
At least one elected official has suggested replacing the state seal in the center of the flag with the Old Man of the Mountain, to memorialize its collapse in 2003, but no official action has been taken on the proposal.