Flag of Moorpark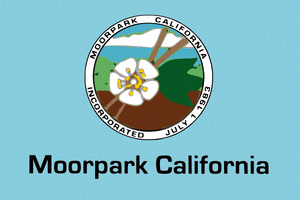 General
List of flags
Simplified list of national flags 
The flag of 
Moorpark
, 
California
, consists of a blue background with a stylized version of the Moorpark city seal above the center of the flag, and the words "Moorpark California" in black, below the seal.
Symbolism

Edit
The Moorpark seal represents Moorpark. The words "Moorpark California" represent the city of Moorpark and the state of California, obviously. The symbolism of the blue background is currently unknown.
Blue background

Edit
According to Moorpark City Council, the blue background is recommended to be Pantone 297 blue, a light blue, which is shown on the image above. However, a second blue was proposed along with the recommended blue. This other blue was Pantone 290, a very light blue.
Ad blocker interference detected!
Wikia is a free-to-use site that makes money from advertising. We have a modified experience for viewers using ad blockers

Wikia is not accessible if you've made further modifications. Remove the custom ad blocker rule(s) and the page will load as expected.