Flag of Missouri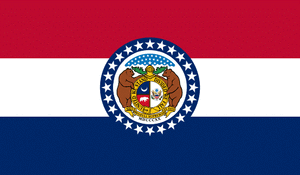 General
List of flags
Simplified list of national flags 
The Flag of the State of Missouri was designed and stitched in Cape Girardeau, Missouri, by Marie Elizabeth Watkins Oliver (1885–1959), the wife of former State Senator R.B. Oliver. She began her flag project in 1908 as part of her volunteer activities with the Daughters of the American Revolution (DAR) when she was appointed chairperson of the DAR committee to research and design Missouri's flag. Oliver researched state flags extensively. She wrote each state's secretary of state for information about how their state's flags had been designed and officially adopted. Her original design incorporated Missouri's coat of arms and was rendered as a painted paper flag by her friend Mary Kochitzky.[1]
The flag was brought to the Missouri State Capitol in 1908 and bills to adopt the flag as the official flag of Missouri were introduced by Senator Arthur L. Oliver, her nephew, in 1909 and 1911. Both bills failed to pass in the House. A competing flag design, by Dr. G.H. Holcomb and referred to as the "Holcomb flag", was opposed due to its resemblance to the Flag of the United States and its lack of Missouri symbolism.[2] Oliver's original paper flag was destroyed when the Missouri State Capitol burned in 1911. With Mrs. S.D. MacFarland, Oliver sewed a second flag out of silk. Her design was adopted on March 22, 1913 when governor Elliot Woolfolk Major signed the Oliver Flag Bill. The flag design remains unchanged to this day.
The silk flag was kept by Marie Oliver until 1961 when her son Allen gave it to the State of Missouri. The flag was displayed until it began to deteriorate and was put into storage. In 1988, Secretary of State Roy D. Blunt issued a challenge to elementary students to raise money to restore the flag. The campaign was successful and the restored flag has been displayed in the James C. Kirkpatrick State Information Center in Jefferson City ever since
Ad blocker interference detected!
Wikia is a free-to-use site that makes money from advertising. We have a modified experience for viewers using ad blockers

Wikia is not accessible if you've made further modifications. Remove the custom ad blocker rule(s) and the page will load as expected.