Flag of Manitoba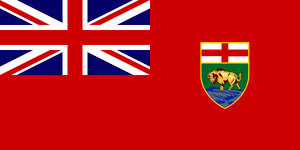 General
List of flags
Simplified list of national flags 
The flag of Manitoba is a variation of the Red Ensign which is beared the shield of the provincial coat of arms. This flag was approved by the passage of a bill in the Manitoba Legislative Assembly on May 11, 1965. Queen Elizabeth II having given permission for the use of the Union device in October 1965, it was officially proclaimed on 12 May 1966. The decision to adopt the flag was made after the federal government decided to replace the Canadian Red Ensign with the Maple Leaf flag. The flag of Ontario was adopted under similar circumstances.
In 2001, a survey conducted by the North American Vexillological Association (NAVA) placed the Manitoba provincial flag 44th in design quality out of the 72 Canadian provincial, U.S. state, and U.S. territory flags ranked.[1]
In 2009 the Manitoba NDP's Riel riding association proposed a resolution on replacing the flag as "outdated and a relic from the days of our former British colonial heritage" but this was not heard by the party convention.[2]
Ad blocker interference detected!
Wikia is a free-to-use site that makes money from advertising. We have a modified experience for viewers using ad blockers

Wikia is not accessible if you've made further modifications. Remove the custom ad blocker rule(s) and the page will load as expected.