Flag of Magadanskaya Oblast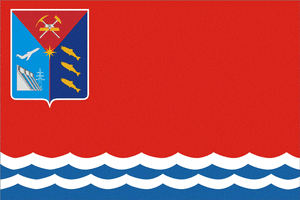 General
List of flags
Simplified list of national flags 
The flag of
Magadanskaya Oblast
, Russia, is red with white and blue waves in its lower part, and the oblast coat of arms in the upper hoist corner.
The waves symbolise the Sea of Okhotsk. The fields of the coat of represent the three main industries of the region: mining, fishing, power system, and transportation.
Ad blocker interference detected!
Wikia is a free-to-use site that makes money from advertising. We have a modified experience for viewers using ad blockers

Wikia is not accessible if you've made further modifications. Remove the custom ad blocker rule(s) and the page will load as expected.