Flag of Libya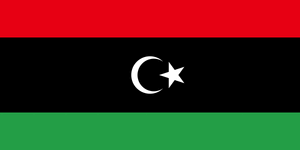 General
List of flags
Simplified list of national flags 
The
Flag of Libya
was  introduced in the early 1950's, following the creation of the
Kingdom of Libya
. The flag was designed by
Omar Faiek Shennib
and approved by
King Idris Al Senussi
who comprised the UN delegation representing the regions of
Cyrenaica
,
Fezzan
and
Tripolitania
at UN unification discussions. It fell out of use in 1969, but was subsequently adopted by the
National Transitional Council
and
anti-Gaddafi forces
and formally reclaimed as the country's national flag in the
Libyan interim Constitutional Declaration
issued on 3 August 2011,
[1]
[2]
as a result of the
Fall of Tripoli
from the
Gaddafi government
in the
Libyan civil war
in August 2011.
Ad blocker interference detected!
Wikia is a free-to-use site that makes money from advertising. We have a modified experience for viewers using ad blockers

Wikia is not accessible if you've made further modifications. Remove the custom ad blocker rule(s) and the page will load as expected.