Flag of Kawartha Lakes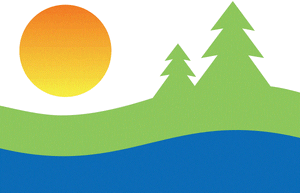 General
List of flags
Simplified list of national flags 
The flag of
Kawartha Lakes
, Ontario, features the sun and two green trees over waves of green and blue.
Symbolism

Edit
The blue represents the Trent Severn Waterway and the lakes of the Kawartha Lakes.
The green represents the agricultural areas and trails.
The yellow/orange represents that the city is a tourist destination.
The evergreen trees symbolize the "green" growth of the city and agriculture.
The sun symbolizes that the city is a tourist destination area, also a recognizable symbol from the logo of the city.
Overall Design represents special areas the city known for: the lakes and waterways, the agriculture and trails as well as the tourist destinations.
Ad blocker interference detected!
Wikia is a free-to-use site that makes money from advertising. We have a modified experience for viewers using ad blockers

Wikia is not accessible if you've made further modifications. Remove the custom ad blocker rule(s) and the page will load as expected.