Flag of Irkutskaya Oblast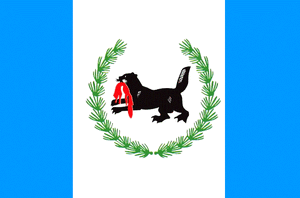 General
List of flags
Simplified list of national flags 
Symbolism

Edit
The flags colours are symbolising:
Black: humility, sadness.
Red: courage, fearlessness.
Blue: symbol of water. At this context it symbolises Lake Baikal, the Angara and other rivers of region.
White: symbol of purity, good nature, modesty. It symbolises the purity of thoughts of the region's habitants. Also, it is symbol of white Siberian winters.
Green colour of cedar's branches: colour of hope, joy, abundance. It is also symbol of unique flora and fauna, the forest wealth of region.
Ad blocker interference detected!
Wikia is a free-to-use site that makes money from advertising. We have a modified experience for viewers using ad blockers

Wikia is not accessible if you've made further modifications. Remove the custom ad blocker rule(s) and the page will load as expected.