Flag of Guam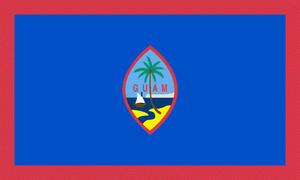 General
List of flags
Simplified list of national flags 
The flag of 
Guam
 is dark blue with a narrow red border on all sides (border was a later addition). In the center of the flag is an almond shaped emblem, which depicts a proa sailing in Agana Bay near Hagåtña, and "GUAM" colored in red letters. The shape of the emblem recalls the slingshot stones used by the islanders' ancestors. The landform at the back depicts the Puntan Dos Amantes cliff on Guam.
Symbolism

Edit
The shape of the seal is that of a Chamorro sling stone used as a weapon for warfare and hunting. The sling stone was quarried from basalt and coral. The Coconut Tree, growing in unfertile sand, symbolizes self-sustanance and determination to grow and survive under any circumstance, with its fronds open to the sky — defies the elements to bend its will. Its bent trunk attests to a people which have been tested by famine, natural calamities, genocide and foreign wars but have continued to endure as a race. The Flying Proa, a seagoing craft built by the Chamorro people, which was fast and agile in the water required great skill to build and sail. The spanish marveled at the grace and speed of the proa which typifies the courage and freedom of the ancient Chamorros to fearlessly navigate and trade with islands thousands of miles from Guam. The River channel, where fresh water rush out to interact with the ocean, symbolizes a willingness to share the resources of the land with others. The permanence of the land mass of Hila'an in the background demonstrates the Chamorro's commitment to their homeland and environment, be it sea or land. Also in the background, "Two Lover's Point" juts majestically into the endless waters of the sea, protraying the people's faithful commitment to passing their proud heritage, culture, and language to the endless sea of future generations. GUAM or GUAHAN means "we have" is the home ("Tano Y Chamorro") of the Mannamoros or Chamorro people. A red stripe surrounding the Guam Seal representing the blood shed by its people during World War II and Spanish occupation. A field of Blue represents Guam's unity with the sea and sky.
Ad blocker interference detected!
Wikia is a free-to-use site that makes money from advertising. We have a modified experience for viewers using ad blockers

Wikia is not accessible if you've made further modifications. Remove the custom ad blocker rule(s) and the page will load as expected.