Flag of Groningen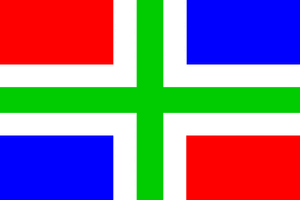 General
List of flags
Simplified list of national flags 
The flag of the 
Netherlands
 province of 
Groningen
 has a white cross design with the upper hoist and lower fly sections red, and the remaining two sections blue. Inside the white cross is a thinner green cross.
Symbolism

Edit
The colours are based off of the Groningen coat of arms. The white and green cross symbolizes Groningen, the capital city of the province. Red, white, and blue are found on the coat of arms of the Ommelanden, the areas of the province surrounding the capital city. The colours of the city are placed in the centre to symbolise the central location of the city within the province.
Ad blocker interference detected!
Wikia is a free-to-use site that makes money from advertising. We have a modified experience for viewers using ad blockers

Wikia is not accessible if you've made further modifications. Remove the custom ad blocker rule(s) and the page will load as expected.