Flag of Greenland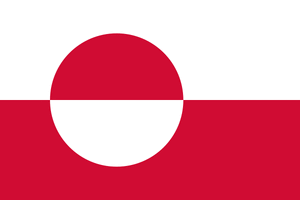 General
List of flags
Simplified list of national flags 
The flag of 
Greenland
 consists of two equal red and white horizontal stripes, with a circle with reversed colors in the centre of the flag. The proportions are 2:3.
Symbolism

Edit
Red and white are the colors of Denmark, which Greenland is a territory of. The circle represents the sun on the horizon, which is a common sight in Greenland, since it is in the Arctic. The circle is placed closer to the hoist instead of in the centre to avoid being worn off the flag by the wind.
Ad blocker interference detected!
Wikia is a free-to-use site that makes money from advertising. We have a modified experience for viewers using ad blockers

Wikia is not accessible if you've made further modifications. Remove the custom ad blocker rule(s) and the page will load as expected.