Flag of Egypt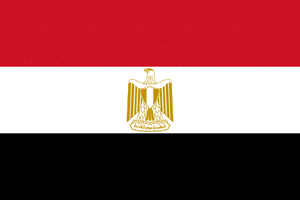 General
List of flags
Simplified list of national flags 
The
flag of Egypt
(
Egyptian Arabic
: علم مصر, IPA:
[ˈʕælæm ˈmɑsˤɾ
]) is a
tricolour
consisting of the three equal horizontal red, white, and black bands of the
Arab Liberation flag
dating back to the
Egyptian Revolution of 1952
. The flag bears Egypt's national emblem, the
Eagle of Saladin
centered in the white band. It has been officially used since 1984.
Symbolism
Edit
The red band symbolizes the period before the Revolution, a time, characterized by the struggle against the monarchy, and the British occupation of the country. The white band symbolizes the bloodless nature of the Revolution itself. The black band symbolizes the end of the oppression of the Egyptian people at the hands of the monarchy, and foreign imperialism.[citation needed]
Egypt's use of the Arab Liberation flag inspired its adoption by a number of other Arab states. The same horizontal tricolour is used by Iraq, Syria, and Yemen (and formerly Libya), the only difference being the presence (or absence) of distinguishing national emblems in the white band.
Ad blocker interference detected!
Wikia is a free-to-use site that makes money from advertising. We have a modified experience for viewers using ad blockers

Wikia is not accessible if you've made further modifications. Remove the custom ad blocker rule(s) and the page will load as expected.