Flag of Drenthe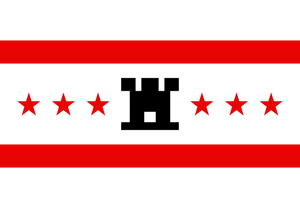 General
List of flags
Simplified list of national flags 
The colors of the flag, red and white are the traditional
Saxon
colors and also those of the
Archbishop of Utrecht
by who Drenthe was governed in the past.
The six stars represent the six ancient regions (dingspil) and the castle is a reference to the city Coevorden from where the province has been governed for a long time.
Ad blocker interference detected!
Wikia is a free-to-use site that makes money from advertising. We have a modified experience for viewers using ad blockers

Wikia is not accessible if you've made further modifications. Remove the custom ad blocker rule(s) and the page will load as expected.