Flag of Ceuta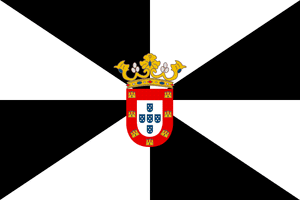 General
List of flags
Simplified list of national flags 
The
flag of the Spanish Autonomous City of Ceuta
is a black and white
gyronny
with a central
escutcheon
displaying the
municipal coat of arms
. (The civil flag, however, omits the escutcheon.)
The gyronny is identical to that of the flag of Lisbon, to commemorate the conquest of the city by the Portuguese in 1415. The city was a part of the Portuguese Empire until 1640, after which it decided to remain with Spain. Thus the coat of arms of the city is, in fact, almost the same as that of the Kingdom of Portugal, showing the seven castles and the five escutcheons with silver bezants.
Ad blocker interference detected!
Wikia is a free-to-use site that makes money from advertising. We have a modified experience for viewers using ad blockers

Wikia is not accessible if you've made further modifications. Remove the custom ad blocker rule(s) and the page will load as expected.