Flag of Cachoeiro de Itapemirim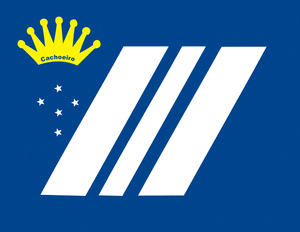 General
List of flags
Simplified list of national flags 
The flag of 
Cachoeiro de Itapemirim
, in 
Espirito Santo
, 
Brazil
, is a blue rectangle with three white monoliths in inclined position. In the upper hoist corner of the flag there is a crown with seven tips and inscription "Cochoeiro". Below the crown the Southern Cross is pictured. 
Symbolism

Edit
The white monoliths stand for for rich deposits of marble.
The crown is the crown of the Princess of the South, its seven tips represent seven districts of Cachoeiro de Itapemirim.
The Southern Cross is one of the symbols of Brazil.
Ad blocker interference detected!
Wikia is a free-to-use site that makes money from advertising. We have a modified experience for viewers using ad blockers

Wikia is not accessible if you've made further modifications. Remove the custom ad blocker rule(s) and the page will load as expected.