Flag of Belize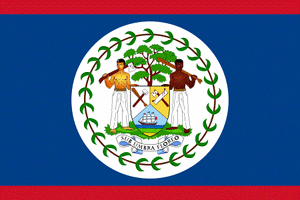 General
List of flags
Simplified list of national flags 
The
flag of Belize
is a continued version of the earlier flag of
British Honduras
(the name of Belize during the British colonial period).
British Honduras obtained a coat of arms on January 28, 1907, which formed the basis of the badge used on British ensigns. The coat of arms recalls the logging industry that first led to British settlement there. The figures, tools, and mahogany tree represent this industry. From 1950 onward an unofficial national flag was in use. It was blue, with a modified version of the arms on a white disc in the centre (sometimes a blank white circle was used as the coat of arms was difficult to draw). The national motto, Sub Umbra Floreo, meaning "I Flourish in the Shade", is written in the lower part of the coat of arms.
Ad blocker interference detected!
Wikia is a free-to-use site that makes money from advertising. We have a modified experience for viewers using ad blockers

Wikia is not accessible if you've made further modifications. Remove the custom ad blocker rule(s) and the page will load as expected.