Flag of Arkansas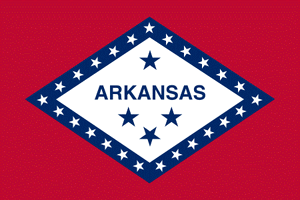 General
List of flags
Simplified list of national flags 
The
flag of the state of Arkansas
is a red field
charged
with a large blue-bordered white diamond. Twenty-nine
five-pointed stars
appear on the flag: twenty-five small white stars within the blue border, and four larger blue stars in the white diamond. The inscription "ARKANSAS" appears in blue within the white diamond, with one star above and three stars below. The star above and the two outer stars below point upwards; the inner star below points downwards.
The design was created by Willie Kavanaugh Hocker of Wabbaseka and selected from a field of 65 entries in a 1912 contest.
Ad blocker interference detected!
Wikia is a free-to-use site that makes money from advertising. We have a modified experience for viewers using ad blockers

Wikia is not accessible if you've made further modifications. Remove the custom ad blocker rule(s) and the page will load as expected.