Flag of Alabama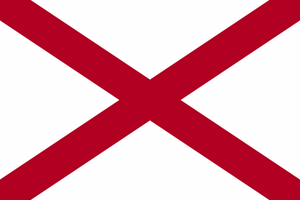 General
List of flags
Simplified list of national flags 
The current flag of the state of Alabama (the second in the state's history) was adopted by Act 383 of the Alabama state legislature on February 16, 1895:
| | | |
| --- | --- | --- |
| " | The flag of the State of Alabama shall be a crimson cross of St. Andrew on a field of white. The bars forming the cross shall be not less than six inches broad, and must extend diagonally across the flag from side to side." - (Code 1896, §3751; Code 1907, §2058; Code 1923, §2995; Code 1940, T. 55, §5.) | " |
The cross of St. Andrew referred to in the law is a diagonal cross, known in vexillology as a saltire. Because the bars must be at least six inches wide, small representations of the Alabama flag do not meet the legal definition.
Ad blocker interference detected!
Wikia is a free-to-use site that makes money from advertising. We have a modified experience for viewers using ad blockers

Wikia is not accessible if you've made further modifications. Remove the custom ad blocker rule(s) and the page will load as expected.